Very Good Recipes of Honey from The InTolerant Chef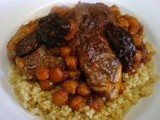 Honey and Lemon Lamb Tagine
By The InTolerant Chef
04/05/13 04:36
You might remember Dear Readers, that a few months ago I wrote a post about the lovely people over at Capilano Honey and their delicious 100% owned and grown Australian Honey. http://intolerantchef.blogspot.com.au/2012/10/sublime-honey-sorbet.html While...
Add to my recipe book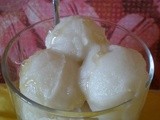 Sublime Honey Sorbet
By The InTolerant Chef
10/02/12 09:15
Have you heard of Capilano Honey? Capilano Honey is the market leader of honey in Australia, packing premium quality honey produced by Australian beekeepers. They are a fantastic Australian company that have been having a bit of a tough time lately. Last...
Add to my recipe book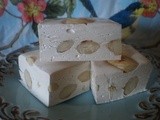 Honey Almond Nougat
By The InTolerant Chef
03/29/12 13:24
I think I've mentioned before that I don't have that much of a sweet tooth. Unfortunately that isn't the case for the rest of my family BigJ loves sweet things. He goes for Cadburys Snack Block, I go for Lidnt 80* black chocolate, he likes to drink Coke,...
Add to my recipe book