Very Good Recipes of Rose from The InTolerant Chef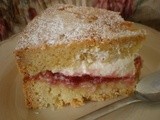 Rose Geranium Duck Egg Sponge
By The InTolerant Chef
05/14/13 05:31
I have some lovely Foodie Friends Friends who enjoy good food, interesting food, different food and cooking it as much as just eating it. Friends who get excited when they stumble across something a bit different, or who invite you to share a pig-on-a-spit...
Add to my recipe book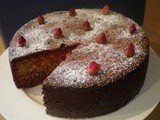 Pistachio and Rose Syrup Cake
By The InTolerant Chef
08/21/11 10:34
I love floral flavours- lavender, rose, orange blossom, and I even have jasmine essence and magnolia flavouring as well. As one who'd banned from perfumes and artificial scents due to my various InTolerances, I think I appreciate them all the more. We can...
Add to my recipe book