Very Good Recipes of Dinner from The InTolerant Chef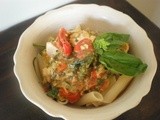 Just Dinner
By The InTolerant Chef
02/26/12 04:30
Being a chef can have its disadvantages. People have certain expectations. They exclaim 'your family must eat well' and to my husband 'you're on a good wicket then' while pointing at his tummy. But really, you can't always be on. Its not souffles and sunshine...
Add to my recipe book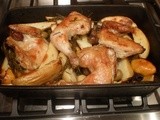 Winner Winner Chicken Dinner
By The InTolerant Chef
09/20/11 06:40
Do you happen to know Newtons Second Law? I was recently asked to explain this law by littlej, who is a very bright bunny indeed. Never one to admit defeat (or failings) I replied "Never Eat More Than You Can Lift" For this attempt I received a raised eyebrow,...
Add to my recipe book