Very Good Recipes of Sweets from The InTolerant Chef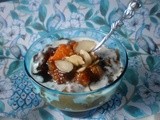 Sweet Apple Quinoa Compote
By The InTolerant Chef
10/11/11 14:43
I love cookbooks. Google is fine for some things, but there's just nothing like holding something concrete in your hands and flicking through the pages. I have books from all cuisines and disciplines, from Commercial Catering to Kiddies parties, and of...
Add to my recipe book
Sweet Pea Soup For Spring
By The InTolerant Chef
09/30/11 14:15
Spring, what Spring? That's the feeling here in cold, cloudy Canberra at the moment. Our long awaited long-weekend promises wind, rain and sundry other nasties instead of soft Spring sunshine and open windows. Sigh... To combat the blues that the weather...
Add to my recipe book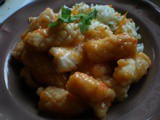 Sweet Chilli Calamari
By The InTolerant Chef
03/13/11 10:14
Deep fried crumby rubber bands. Languishing in the greasy tray of the local chippie. Sprinkle them with some chicken salt, and chew and chew and chew. Sadly that's the only experience some people get with this little cephalopod, but it is really so delicious...
Add to my recipe book