Very Good Recipes of Turkey from The InTolerant Chef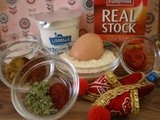 A Gluten Free Taste of Turkey
By The InTolerant Chef
12/04/12 03:57
One of my sisters, SpecialK, has recently returned to Australia,after living in Turkey for the past 7 years. She bought with her a Turkish husband and two gorgeous little kiddies who are rapidly adopting Australian accents and habits as they happily settle...
Add to my recipe book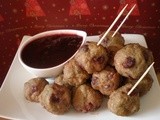 Turkey and Cranberry Meatballs with Cranberry Port Sauce
By The InTolerant Chef
12/01/11 02:17
Christmas Nibbles I know, I know, I'm quite late with this post, aren't I Dear Readers? Please accept my apologies, but you see, I was whipped away by my beautiful parents to a few days in the Hunter Valley. Poor me :) We had such a lovely time hanging...
Add to my recipe book